The private beach
Enjoy and relax by the sea
Hotel Mida's private beach is an oasis of peace to enjoy sunny days with family or friends. Think of lazily lounging while your children play safely with the soft golden sand a few meters from you or imagine yourself bathing in a turquoise sea. That's what you can expect at Hotel Mida's private beach.
You will make freely use of sun beds and umbrellas.
You'll be provided with towels for the beach for free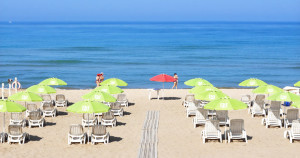 Consider our beach like a huge en plein air SPA
The Sea is nothing but a fully natural source of wellness and beauty
Sea means not only tan, games on the beach and sunbathing. Sea is above all an elixir of beauty to be exploited in total relaxation. The sun, the sand, the water, the iodine, the seaweeds act as fantastic treatments for the skin. They do promote blood circulation, they mitigate swellings, they streamline and tone the critical points.
The sea itself and the environment around and by the sea have to be considered the best example of a SPA providing long lasting specific treatments and, last but not least, they are free.
At the same time we do not have to forget how important the sun is. The sunny days we do enjoy almost all year round here in Sicily, foster the synthesis of vitamin D, which is essential for our bones and increase the production of endorphins with psychological benefits on our mood and vitality.
The trace elements present in the sea pass in our body by osmosis. While plunging we tone up our tissues, we reduce cellulite, stimulate blood circulation, improve respiratory functions and alleviate muscle and rheumatic pains.
Even the sand has miraculous healing properties. Make a scrub of sand and water and you'll smooth your skin while removing dead skin cells. Enjoy an early morning barefoot walk and you will get a natural massage for the soles of your feet.
Seaweeds and algae have, instead, a detoxifying and purifying power and even a stronger one if employed as concentrated sludge.
To sum up life by the sea is an elixir of beauty to take definitely advantage of for the regeneration of your body and your mind.